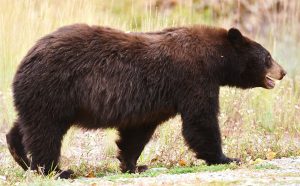 Bear Witness Safari Company is renowned for creating a high-end tour experience that is unrivaled in Jackson Hole, Wyoming. A visit to the Jackson area and nearby national parks would be incomplete without embarking on an adventure with a Bear Witness Safari Tours. More than a tour, it's an expedition to discover the area's extraordinary breadth of wildlife and stunning, natural landscapes.  Our guides are true wildlife experts and professional photographers, and not college kids working a summer job.  Our guides know Yellowstone and Grand Teton National Parks like their own backyards.
Most of our wildlife tours are private, making your trip more enjoyable to share your special moments exclusively with your family and friends. The intimate nature of our tours allows our guests a more customized experience and to be treated to the wealth of wildlife knowledge our guides enthusiastically share with them.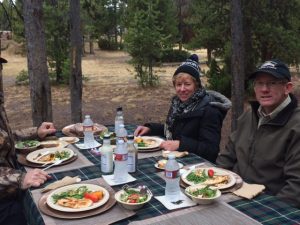 In addition to being in the company of a variety of majestic animals, our guests feast on gourmet picnic lunches prepared by local Jackson Hole Chefs. They can "Taste the Wild" with Bear Witness Safari Company while enjoying the wilderness and meticulous place settings.
Bear Witness Safari guides are mature, local photographers who have a longtime, deep passion the wilderness.  Your guide will put you in position for photographic opportunities that you never before dreamed about. Many of our guests have broken into tears at the stunning beauty and secret locations that our guides take them to.  They will offer tips on how to frame your shot and manage your camera settings. We want you to capture the most exceptional photographs of your lifetime.  Our guides ensure you have the best chance for success given the specific weather and lighting conditions you encounter. They will also advise on the most scenic locations to take portraits of your family, friends or corporate group.
Allow our guides to maximize your bragging rights!  Please visit our facebook page to see what we are doing every day in the wilderness.   www.facebook.com/Bear-Witness-Safari.  Also check out our videos on Youtube.com